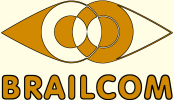 We are part of the Accessibility Expert group. We focus on research and development in the areas of accessibility, assistive technologies and generally information technologies and related domains. Our work includes public dissemination of the results of our development or the results of development of other research and knowledge-dissemination organizations by way of teaching, publication or knowledge transfer.
We believe that while technologies make "healthy" people's lives easier, they make the lives of severely visually impaired people more accessible, providing them with a real chance to receive education and find a job.
The founder of our non-profit organization is Endowment Fund for the Blind, which has been looking for ways to make specific projects come true for more than 28 years.
If you're an institution or a company that needs to deal with the accessibility of their services or products, we might be able to help you. In such case, you can repose your trust in us and contact us.